Consumer & Business Connection
A new partnership. A new opportunity.
Adobe was at a crossroads. Two key strategic sites were aging and desperately needed a refresh. And it was getting costly to maintain both.
The sites were the Adobe Interactive Guide (AIG) and the Learning Resource Center (LRC). Both platforms provided product information and enablement tools for sales people around the world, but AIG was directed to SMB partners, while LRC was aimed for direct sales agents. Because their objectives were so similar, a large portion of the content was duplicated between them. So Adobe decided to combine them, and the Consumer & Business Connection (CBC) website was born.
Consumer & Business Connection is a public website containing permissioned content that supports a $3 billion business. It provides SMB sales enablement, communications, and marketing for two routes to market – direct and channel. It is built on Adobe's own Experience Manager.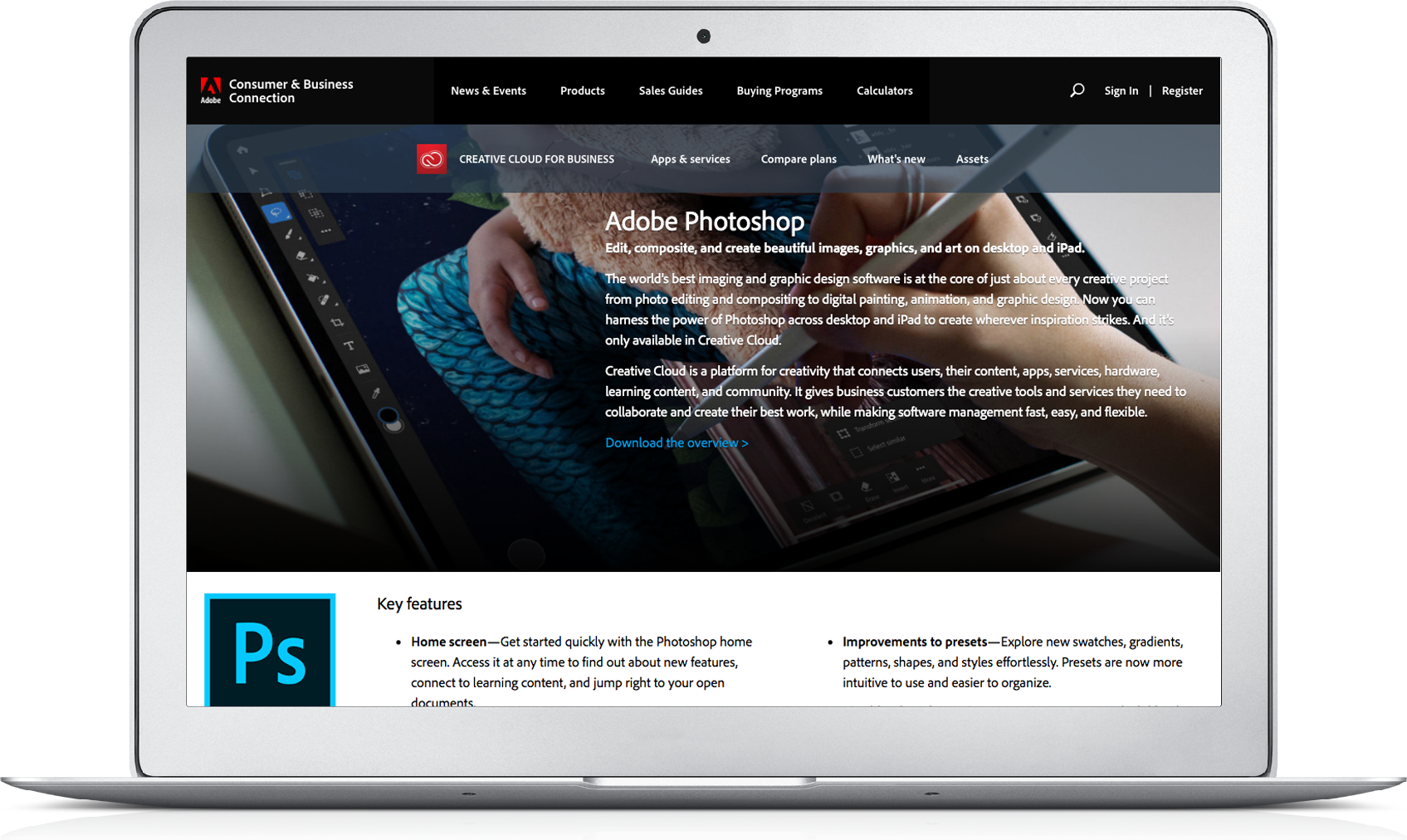 I was part of a team of 3 individuals responsible for the user research and design. I conducted several of our discovery interviews and user tests, and collaborated with my teammates to analyze the results. Additionally, I created several wireframes and mockups to help communicate my ideas for the site design to teammates, stakeholders and developers.
I also served as the product owner for the engineering team due to my background in front-end web development and agile. I prioritized their user stories in JIRA, keeping in mind business needs, dependencies and unknowns. I organized the work into sprints and ran the scrum ceremonies.
Semi-structured interviews
Tree testing
Usability testing
Sketching
Site mapping
Interaction design (Adobe XD)
Wireframing
Because we were combining two existing websites (AIG and LRC) into a single platform due to containing nearly identical content, we knew that one of our biggest challenges was going to be figuring out how to organize and present the content in a way that made sense to two very different audiences. We started our exploration doing ten stakeholder interviews and an analysis of the partner ecosystem. These activities led to a better understanding of the Channel Partner and Direct Sales experience, which we used to build the requirements for project Fusion.
We then interviewed eight users in a semi-structured interview format, making sure we had representation from all the various geos currently served by the two platforms. We wanted to get a sense for how they use the site, what is working well, and what could use improvement. We identified several opportunities for design, including:
AIG and LRC both needed to restrict access to sensitive and confidential content on the site. We would need to create a permissions structure that continued to restrict Direct Sales content to employees only while also giving partners access to their own content.
Merging the navigation of two sites is challenging, and due to Adobe's organization and positioning of its product offerings, there was a need for a fairly complex multi-leveled navigation structure, which also had to take into account both permissions and regional differences in content.
Neither one of the original sites had any sort of search functionality, but this was the most-requested feature that emerged from our stakeholder and user interviews. We would need to provide a multi-faceted search experience to improve the usefulness of the site.
These issues led us to define our design problem:
How might we better equip both Adobe's channel partners and direct sales agents to sell Creative Cloud and Document Cloud products?
Prior to the fusion of the platforms, the Learning Resource Center had always been restricted to employees-only, but the Adobe Interactive Guide was public. The lack of permissioning on AIG made sharing confidential information with partners very difficult, and a number of less-secure workarounds had been developed over time. With Consumer & Business Connection, we added an additional layer of partner-level permissions to make it easier to securely share sensitive announcements and collateral with trusted partners by putting it behind a login structure.
Consumer & Business Connection allows users to login quickly and easily using either their Adobe, Google, Facebook or Apple account (for partners); or their employee credentials. If users are already logged in to another Adobe site, they will automatically be logged in to CBC with a single click.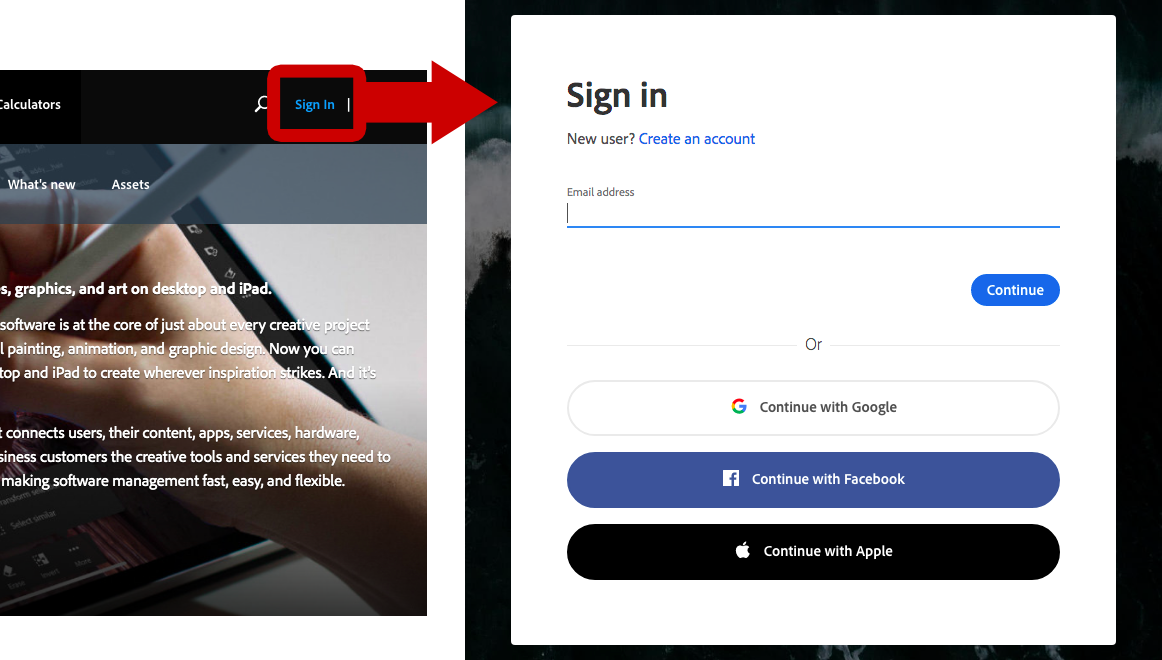 After logging in to Consumer & Business Connection, users are redirected to a targeted homepage and navigation experience with content and collateral that is intended for their specific role, whether they are partners or employees. The content may be confidential, sensitive, or it may simply include messaging directed to that audience specifically.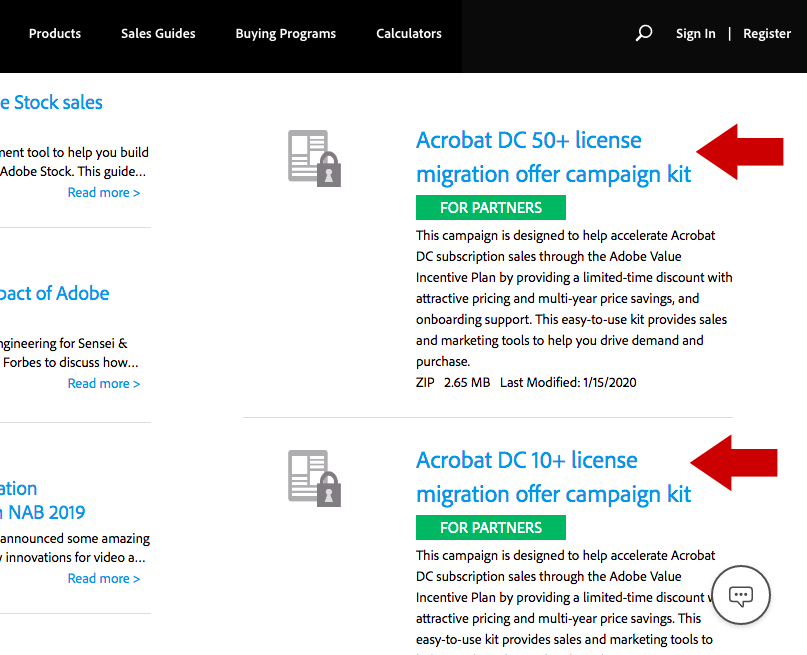 Combining two navigation systems into one can be a daunting endeavor, especially when dealing with a complex, multi-tiered product offering like Adobe's. We spent a lot of time getting the navigation for Consumer & Business Connection right, running card sorts, tree tests and usability tests. The result is an intuitive multi-level menu enabling users to quickly jump to the information they are looking for.
The main navigation for the site has a two-layered structure - the top level is for navigation between sections of the site, while the second level is for navigation within sections. Drop down menus are also available from both levels when it makes sense for the content.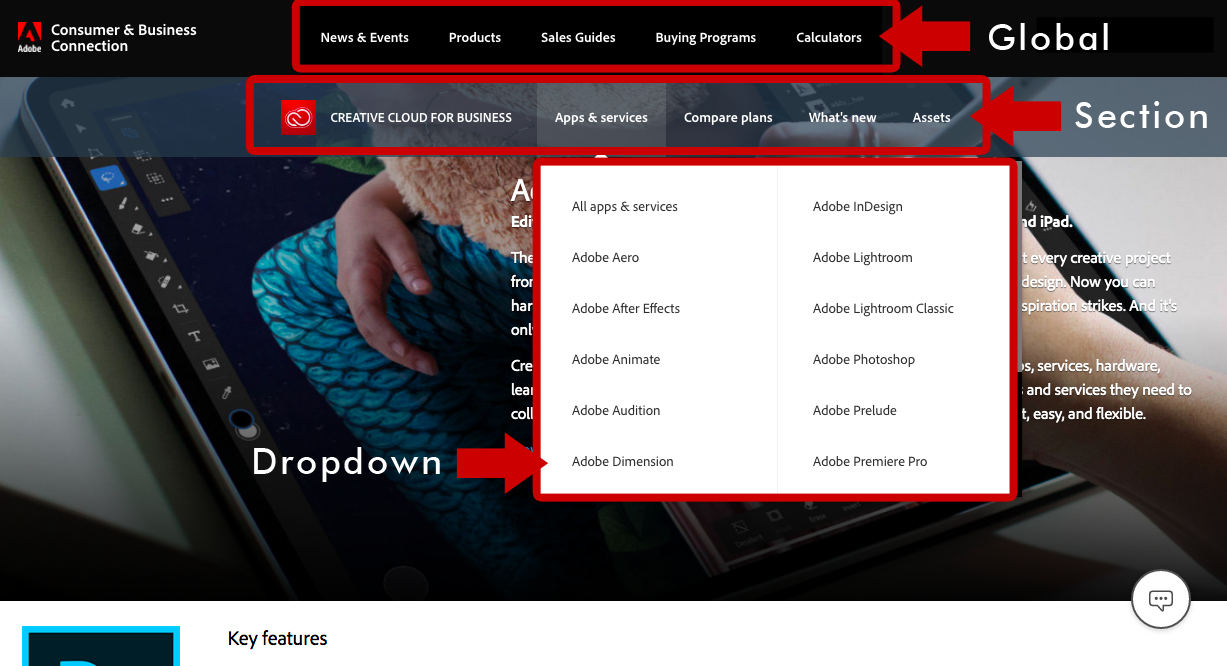 Because Consumer & Business Connection supports users from around the world, the content is localized into 10 languages. The language selector allows users from other locales to select their preferred language, and the site will remember their preference when they return.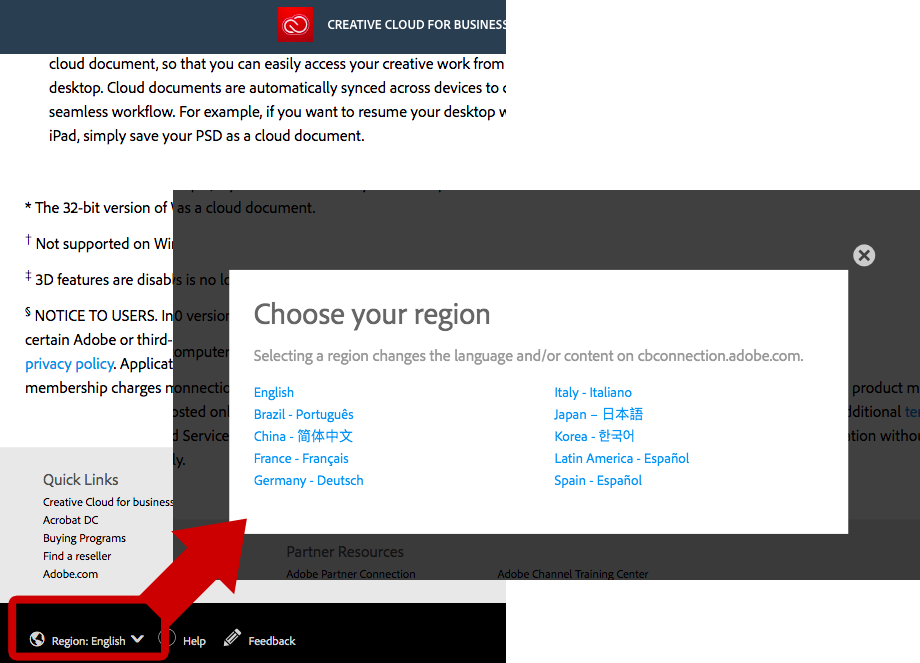 Since partners often reach out for help due to the complexity of Adobe's product offerings, we built an easy-to-find floating help button into the lower right corner of the page. Support reps are available to chat during local business hours to quickly answer any questions that users might need help with.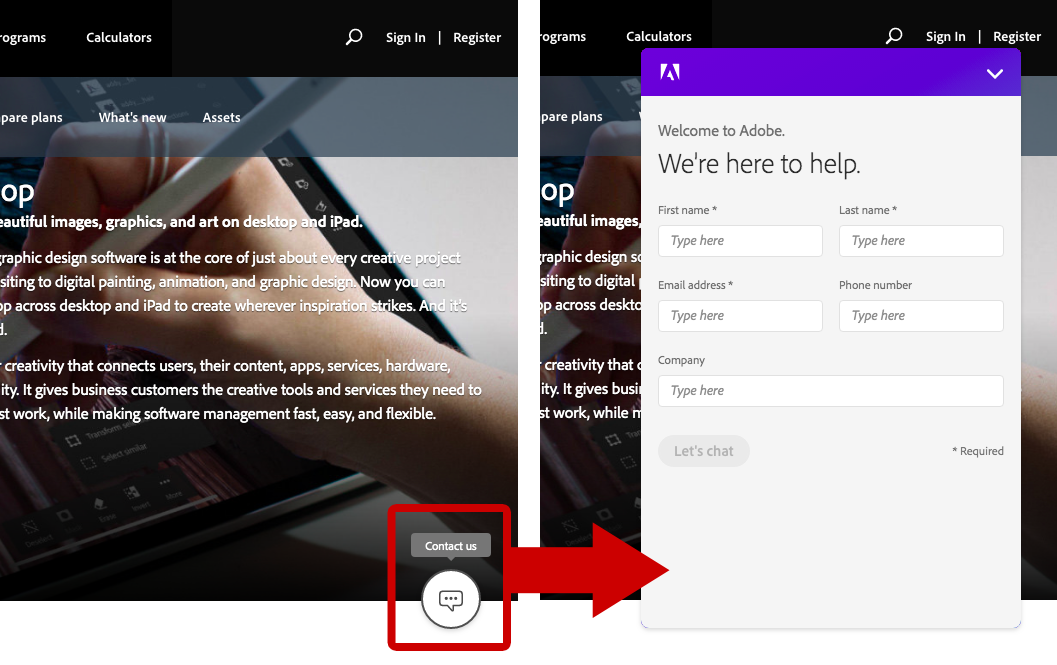 By far, the most requested feature for the site merger was for a way search the content. We found from our user studies that approximately 60 percent of our users prefer to search for content rather than browse to it. With that in mind, we built a search experience that was simple but had enough extras to make it even more valuable to our users.
The search function can be found in the top right corner of every page on the site, right where users expected to find it. It also offers a dropdown of predictive results of most popularly searched items to make search queries more efficient.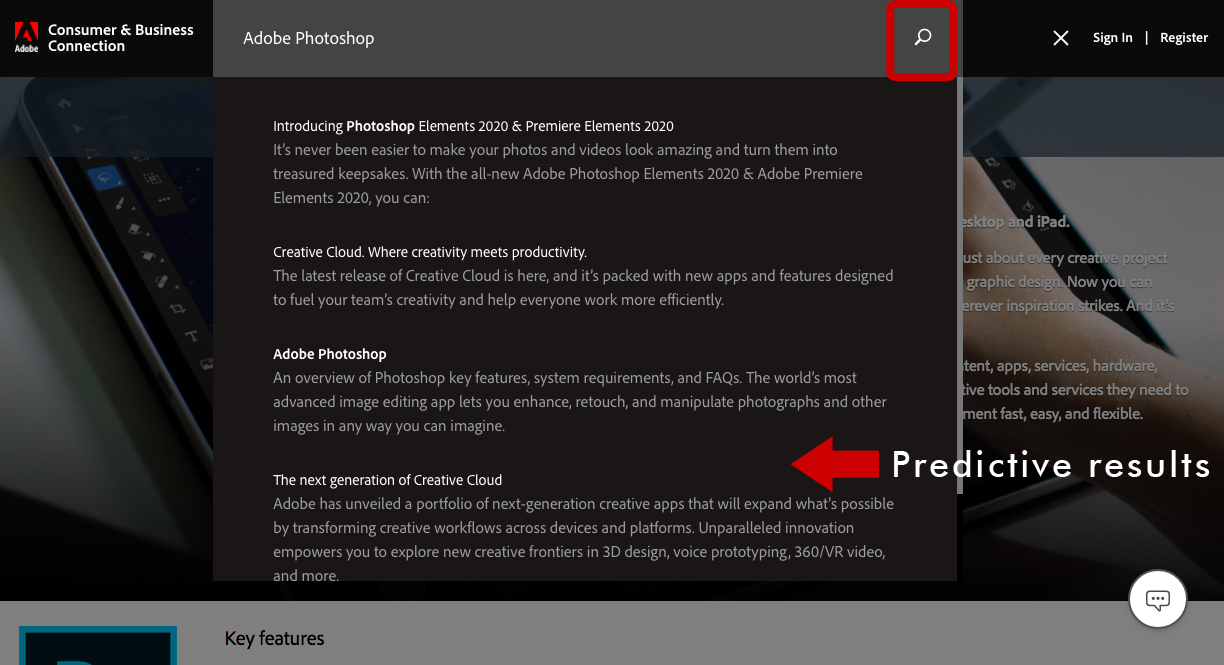 Each of the results that comes back from a search query has a host of useful metadata to help users select the item they are looking for without having to click into lots of results. Users also get several options for actions - they can view the result, download it, or email it out to a colleague or customer - right from the search page. This functionality saves them several steps, particularly when emailing out links and collateral. It has become a delighter and a favorite feature of the site.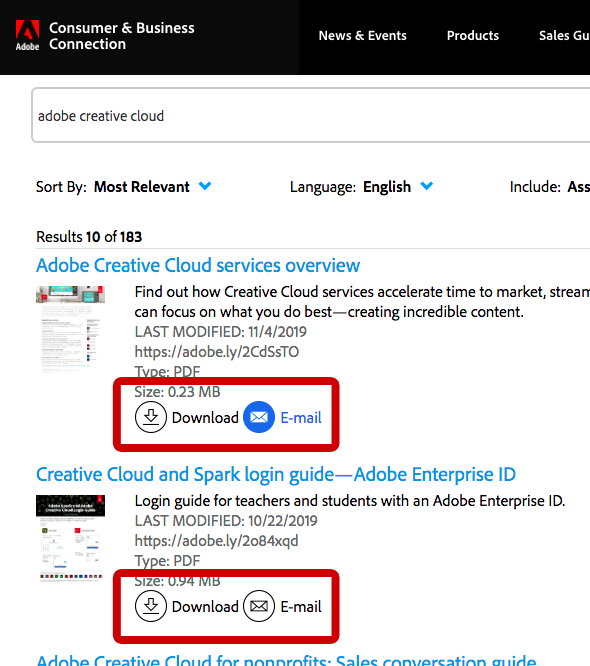 This was my first major project at Adobe, and I have to admit that I was pretty nervous going into it. I was suffering from imposter syndrome, never having done a project at this scale before. But as I took it one step at a time, somehow it all added up to something that was meaningful and significant. I learned that I can accomplish big things that provide value to people, which is why I got into this business in the first place.
Testing, testing, testing
We did a lot of testing for this project because of the complexity and strategic importance of the site. We ran card sorts, tree tests, and a number of usability tests with prototypes of varying levels of fidelity. Every test we ran yielded new insights which helped shape the end product into something much more useful and successful than it would have been otherwise.
As product owner, there were a number of times when the developers were facing some serious technical problems that required a solution from someone within Adobe's vast network. At times it was very unclear how I would get issues resolved that seemed over my head. But tenacity paid off, and I ultimately was able to find the solutions I needed by fearlessly reaching out to find someone who was willing to help.
The impact of Consumer & Business Connection
Consumer & Business Connection has been well-received by users and it has been widely recognized as being a huge step forward from the two platforms it replaced. Engagement and time-on-site has increased by over 200%, and a system usability score measurement shows an increase of over 30%.
The site was so well-received that it has started to take additional functionality, such as on-demand training content. Content and features from other partner sites will likely be added to CBC in the near future.